1. Name: Cara.
2. Nicknames: Midge (I'm insanely short), Ethel (as in Mertz).
3. Age: 20.
4. Birthday: 04/21 (same as Patti LuPone!)
5. Describe yourself positively in three words: Loyal, witty, creative.
6. Describe yourself negatively in three words: Needy, emotional, overdramatic.
7. Strengths/Skills/Talents: Writing, acting, singing, dancing, the knack for retaining insane amounts of useless knowledge.
8. Weaknesses: Short-tempered, can be close-minded, obsessive.

Favourites
9. Food: Filet mignon, anything Italian.
10. Colour: Black and red.
11. Three Movies (that are not Sondheim related): Cabaret, Sunset Boulevard, All About Eve.
12. Three Books (that are not Sondheim related): Valley of the Dolls, The Great Gatsby, Mrs. Dalloway.
13. Season: Winter.
14. Place: New York City.
15. Song: "Sara" --Fleetwood Mac, "Rose's Turn" --Gypsy, "Waltz for Eva and Che" --Evita
16. Quote: "Everybody has a heart...except some people." --Bette Davis as Margo Channing in All About Eve.
17. Non-Sondheim musical theatre character: Eva Peron.
18. Non-Sondheim show: Evita.

Do you prefer. . .
19. Andrew Lloyd Webber or Stephen Schwartz? In terms of composing? ALW. As an individual...neither.
20. Bernadette Peters or Mandy Patinkin? Bernadette.
21. Vegetables or Fruits? I enjoy both.
22. Murder or Deceit? Murder.
23. Words or Actions? Words.
24. Flowers or Chocolates? Flowers.
25. Walking or Running? Walking.
26. Singing or Dancing? Singing.
27. Black or White? Black.

28. Tell us how much you love us (points if you get creative): I love you more than all the kittens in the sea.
29. Anything else you'd like to tell us? Nay.
30. Please post at least two clear pictures of yourself.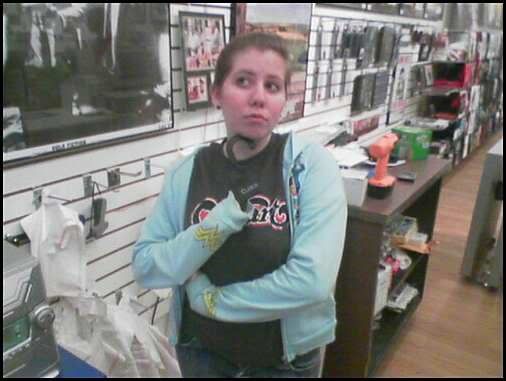 ^^^^goofing off at work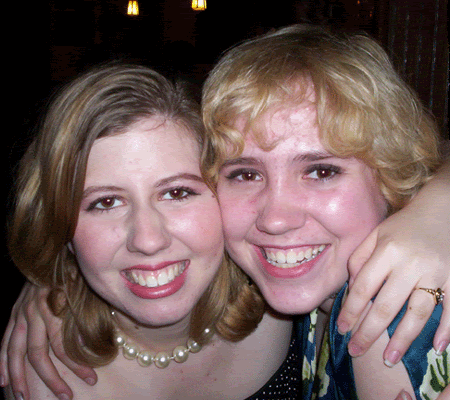 ^^^^i'm on the left, with the pearl necklace