Hope this is still up & Running. x



The Application
1. Name: Daisy.
2. Nicknames: Dais, Daisly.
3. Age: Fourteen.
4. Birthday: December 4th
5. Describe yourself positively in three words: lively, creative, random.
6. Describe yourself negatively in three words: stubborn, bitchy, bossy.
7. Strengths/Skills/Talents: I'm an art freak - I draw wherever, whenever, I play the Piano pretty well and I personally think I can act when I put my mind to it.
8. Weaknesses: I can be horribly bitchy sometimes, and I often don't give up on my opinion.

Favourites
9. Food: Ice Cream.
10. Colour: I'm quite a blue person.
11. Three Movies (that are not Sondheim related): West Side Story, Rent and Sunset Boulevard.
12. Three Books (that are not Sondheim related): Good Omens, The Colour of Magic and Wicked.
13. Season: Winter. It's sometimes snowy, and always cold but I just love it.
14. Place: Infront of the keyboard, or behind a sketchpad.
15. Song: The blower's Daughter – Damien Rice.
16. Quote: "It's kind of fun to do the impossible." – Walt Disney.
17. Non-Sondheim musical theatre character: Eva Peron.
18. Non-Sondheim show: Evita and Songs for a New World.

Do you prefer. . .
19. Andrew Lloyd Webber or Stephen Schwartz? Meh. Andrew Lloyd Webber because of Sunset and Evita. That's all.
20. Bernadette Peters or Mandy Patinkin? Eh, I love both but I'm going to have to say Bernadette.
21. Vegetables or Fruits? Fruits by far.
22. Murder or Deceit? Deceit of course.
23. Words or Actions? Actions speak louder than words.
24. Flowers or Chocolates? Chocolates, always.
25. Walking or Running? Walking. I'm a crap runner.
26. Singing or Dancing? I'm shite at both, so they're equal.
27. Black or White? Black.

28. Tell us how much you love us (points if you get creative): Well obviously Sondheim fans FTW.
29. Anything else you'd like to tell us? Not that I know of.
30. Please post at least two clear pictures of yourself.

Random shots.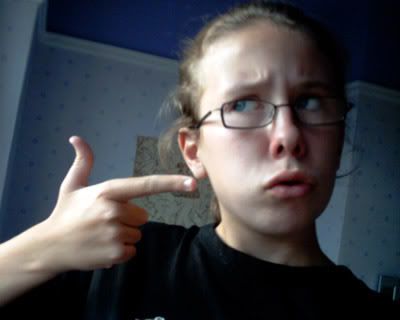 Daisy has a hat fetish.
Totally Patti Lips impression.